I've got a special request: Can you help healthcare workers get PPE?
I have one niece who is a hospital nurse, and two nieces who are CNAs working in nursing homes and special needs care. I am working right now for a healthcare workers union.
I assure you that the lack of personal protection equipment (PPE) for healthcare workers is real, it's national, and it's a huge danger to our healthcare workers and the people they serve – that is, us.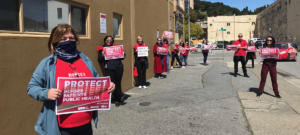 What can we do?
Healthcare workers need professional grade PPE, but where that is not available, something is better than nothing. Homemade PPE will make the difference until professional manufacturing can catch up.
* Can you sew?
Check out this article: How to Make Coronavirus Facemasks. It has great tips, patterns, and videos. You do not have to be Christian Siriano to make a facemask that will help a healthcare worker.
* Can't sew? Donate locally.
Please look for groups in your area who are doing this work; they almost certainly need cash donations for materials and labor.
* Donate nationally.
To donate cash on a national level, check out #GetUsPPE. This organization is run by a group of healthcare workers. It advocates for more PPE production by manufacturers; sends, receives, and coordinates donations; and helps the craft community validate designs that are easily shareable and printable. They've also launched an extensive map of donation locations across the US with information about which supplies each accepts and how to donate items.
Let's do what we can right where we are … and stay safe out there.