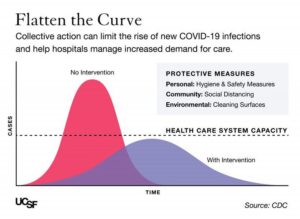 A young woman said to me on Friday, "I guess it's just because I've never lived through anything like this before, I'm super anxious."
I told her, "Unless you're 108 years old and lived through the 1918 flu pandemic, no one can remember living through anything like this before."
Panic is the natural companion of pandemic. Anxiety is its younger sibling. These are absolutely natural feelings. Unfortunately, these emotions can make us sick in many different ways, even if we manage to avoid catching COVID-19.
For the 25% of Americans who are today under a formal "shelter in place" order, anxiety may be heightened by feelings of boredom and helplessness, and lack of exercise and mental activity. Millions of others are already essentially self-isolating due to schools, colleges, workplaces, bars, restaurants, music venues, conferences, movie theaters, and countless other places where we socialize being closed.
So, what can we do?
The most crucial thing we can do to help our families and our communities – although it may seem counterintuitive – is to first take care of our own mental and emotional and physical health. This will allow us to be better prepared to care for others.
Happiness can be just as contagious as panic. When we find joy, we build up our resilience against long-term stress. I've been taking joy in this mashup: Lizzo, Peter Gabriel, Stevie Wonder, and TLC? Yeeeeahhhh. Many musicians are giving online concerts now – find some that make you happy.
Caring for others is the second thing we can do. By caring for each other, in whatever way we are able, not only do we decrease our own feelings of helplessness and boredom, we also create and strengthen social bonds that will help us all come through this crisis.
Finding purpose in these times is a crucial shield against depression, anxiety, and panic. We can find that purpose in caring for each other, spreading happiness, and finding joy.